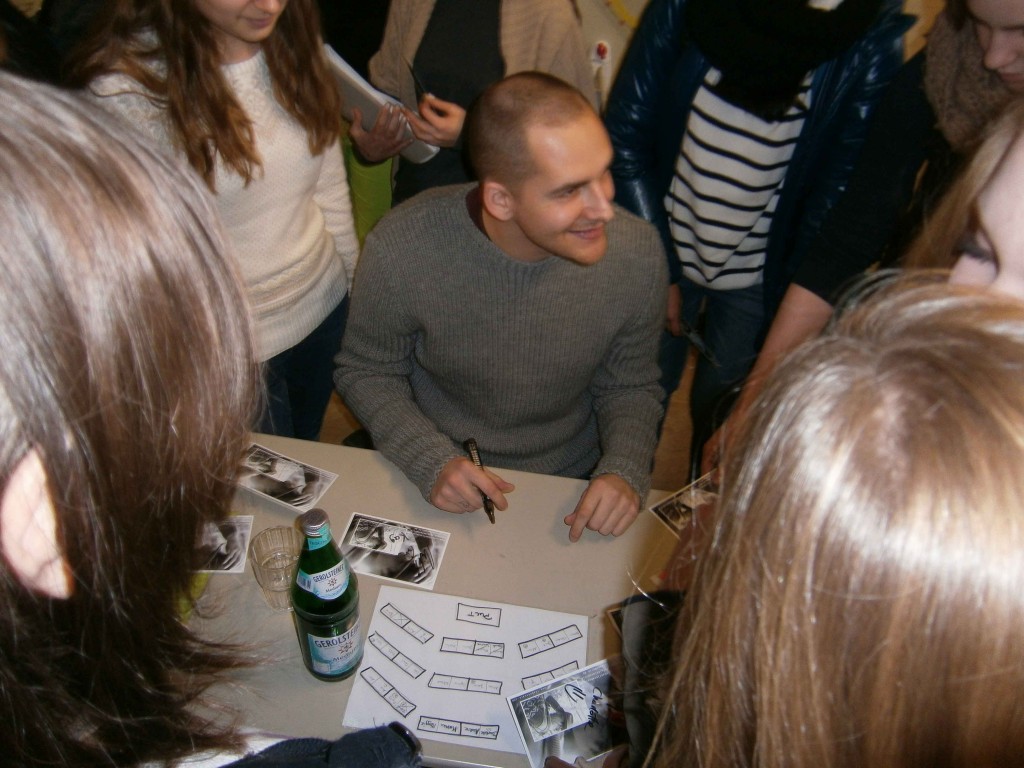 Der deutsch-amerikanische Sänger Michael Lane, bekannt aus "The Voice of Germany", besuchte – zur Freude der Schüler – das Ohm.
von Kangwu Zong und Rebecca Heß, 9c
It was a big surprise that Michael Lane came to visit us and that we had the chance to see him face to face in order to interview him.
Michael Lane was born in Germany. His mother is German and his father comes from the US. When he was six years old, his father took his family back to America. He grew up in Green Bay, Wisconsin. After he had finished high school, he joined the US Army at the age of 20. He worked for the Army for 6 years, he joined the war in Iraq as a helicopter mechanic and he was based in Afghanistan, too. After this, he had a new start in Nuremberg in 2012, where he had lived as a child. He joined "The Voice of Germany" and he reached 3rd place. Michael Lane has a lot of talent. We dearly hope he will have a very bright future in his musical life and perhaps one day he can present his music to the whole world (von Kangwu Zong).
On Monday, the singer-songwriter Michael Lane was at our school and we were allowed to ask him some questions about his life before and after he took part in a talent show. He told us some interesting facts about his life as a musician and at the end, he sang some songs for us that were written by himself. Michael Lane was born in Bavaria in 1986. When he was six years old, his American father decided to move to the USA with Michael and his mother. There he went to school and when Michael was about 20 years old, he decided to join the Army. There he worked for six years but he didn't like his job as a soldier. In 2012, Michael moved back to Germany, where he first worked in a nursing home for the elderly. He always loved singing, so his best friend told him to take part in the talent show "The Voice of Germany". He actually didn't plan to go there but his audition was very good so he joined Xavier Naidoo's team. He got to know many people during the show and he's still in contact with one of the other contestants. Michael Lane reached third place and he's very proud of that. He thinks it was a great experience but he doesn't want to take part in another talent show in the future. When the interview was done, Michael signed some autograph cards and we could take a photo with him. All the pupils and teachers really enjoyed his visit and we hope he will always be successful with his music (von Rebecca Hess).