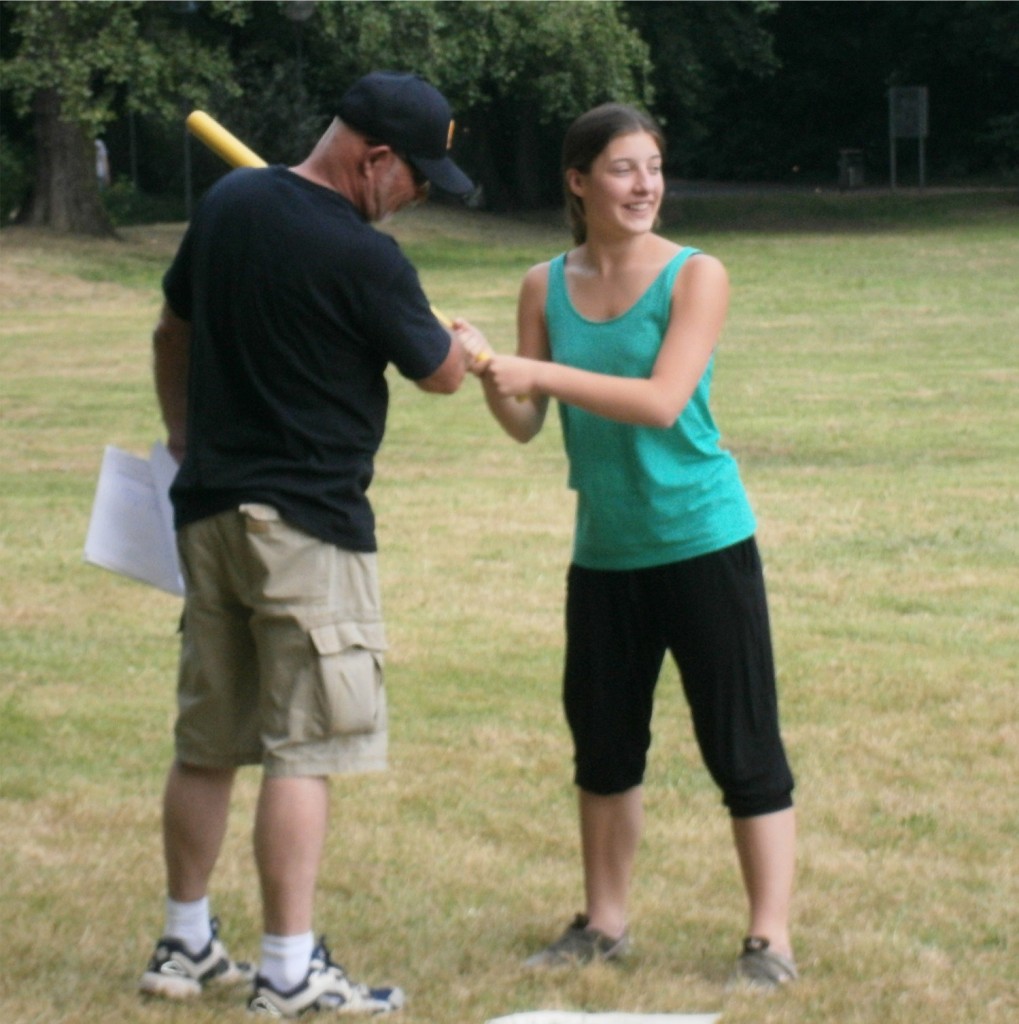 Unsere Klasse hatte einen sehr speziellen Schultag: eine Kombination von Englisch und Sport, kurzgesagt hatten wir die Möglichkeit, den in Amerika populären Sport Baseball auszuprobieren.
von Karla Ruschhaupt
When our English teacher Mrs. Meixner asked if we would like to play baseball, we were all enthusiastic about this idea! So, we went to Nuremberg to the German-American Institute (Deutsch-Amerikanisches Institut, DAI). The DAI offers the possibility of teaching American sports to school classes.
There, Georg Barth and two American pupils from the baseball club "Fürth Pirates" taught us general facts about this sport and after that, we learnt the baseball rules. For me, to be honest, this sport and its rules seemed to be very complicated!
Of course, we also got a chance to actually play baseball and not only to learn the rules!
At the " Wöhrder Wiese ", we first practised how to throw and catch the ball, using the big gloves. Then, we even started a " real " match. We played in two teams with soft balls.
Here is a little explanation of the baseball rules and the way this sport is played:
The nine players of team A are on the field and one player of team B is the pitcher. One person of the other group (A) throws the ball to the pitcher, who hits the ball back. If he does not manage to do this three times in a row, he is out and it is another player`s turn
("Three strikes you`re out."). If the pitcher is able to hit the baseball, he starts running to the first of four bases. Team A tries to catch the little ball and to throw it to team A`s catcher. When he has the ball, the pitcher must be on a base to be safe, if not, he is out, too. After group B has run around the field a few times, it is the other team`s turn. Every player who manages to run to every one of the four bases gets a point. After some rounds, the group with the most points has won.
You see, this is very theoretical, but if you can try baseball, you will realize that the game is not as difficult as you may think. All in all, we had a lot of fun and enjoyed the special English and sports day.